Welcome to BIRDS ONLY WILDLIFE STUDIO.
Through the art of avian taxidermy, BIRDS ONLY celebrates the beauty of earth\92s most colorful and graceful creatures.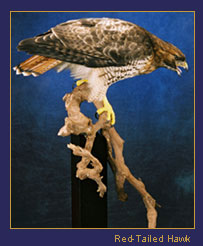 Perhaps Roger Tory Peterson said it best: \93Birds, not rooted to the earth, are among the most eloquent expressions of life.\94
Glen Browning of BIRDS ONLY offers not only fine quality custom bird mounts, but also perhaps the most versatile and detailed instruction courses available, emphasizing the latest techniques in bird taxidermy. He also distributes a small but exclusive line of taxidermy supplies and related products, including acrylic eyes, display cases, and state of the art hangers and pins.
With over thirty years of experience, specializing in \93birds only,\94 Glen has consistently achieved top honors at major competitions around the world. In combination with his emphasis on natural expression and artistic composition, his meticulous attention to often-overlooked details makes his work unprecedented and distinctive. Each completed piece is a unique and lifelike work of wildlife art designed to last a lifetime.